The Sea Ranch Connect project consists of individual strands of fiber that run from one of two data centers to each and every lot. At the street, a "hand-hole" provides a link from this fiber to a shorter "drop" fiber that runs to the house. At each house the drop fiber terminates at an optical network terminal (ONT) and gateway (router) which converts the optical signal in the fiber to electrical signals that enable internet and telephone services.

The ONT is a passive (unpowered) box mounted on an exterior wall of the residence. The drop fiber runs from the street to the ONT. A shorter fiber cord runs from the ONT, penetrates the house exterior and connects to the gateway on the house interior. For installation and service, a technician can connect to the ONT and measure optical power and signal integrity without entering the residence.
The location for the ONT box on the outside of your home may affect the future location of the gateway (router) on the inside of your home. At a later date, the gateway will be installed on the inside of your home with you or your agent present. The default location for the gateway will be inside your home within 8 feet of the ONT and near an electrical outlet. At the subscriber's request, it will be possible at additional expense to extend the fiber from the ONT to a different gateway location by: a) undergrounding the fiber around the perimeter of the home, or b) tacking the fiber to the bottom of the exterior siding (near the foundation) around the perimeter of the home, or c) directing the fiber into the crawl space below the home and bringing it up into the home in a different location.
The gateway which is located inside the residence provides the following functions:
Incoming optical signals are converted to digital electrical signals (a photoreceiver)
Outgoing electrical signals are converted to digital optical signals (a laser)
The gateway's routing capability connects to your devices by either wireless WiFi or by wired connections depending on the model you select (four or so RJ-45 connections for high speed Ethernet cables—you can use one of these to operate your own WiFi router if you prefer).
Telephone modem (includes an RJ-11 connector) that is connected to the existing telephone wiring.
The gateway requires battery backup so that telephone and Internet service stays on during brief power outages. It has not yet been determined if the backup will be internal to the gateway or if an external UPS (uninterruptable power supply) will be needed.
In-Home Considerations
There are two scenarios:
In small homes, or in homes where the only Internet connection will be located near the gateway, no additional equipment is required. The WiFi signal is adequate for the entire house and no wired Internet connections are required.
When the WiFi signal is too weak to service the entire house and/or wired LAN connections are required. Wired LAN cabling from the gateway to other locations may be required for computers without WiFi capability. An additional wireless router (or an extender) may also be placed to give better coverage for the entire home and provide wired connections.
We're recommending that wireless phones be used for full-home coverage. But it may also be possible that the existing in-home telephone wiring can be connected at the gateway (and disconnected where the Verizon line enters your home) to enable telephone usage throughout the house.
Gateway Options
We have chosen to go with the Calix brand of devices.
Wi-Fi Enabled Gateway
Calix 844GE – This device has four Gigabit Ethernet Ports. Dual band WiFi, 5GHz 802.11 ac/a/g/n and 2.5 GHz 802.11 b/g/n compatible. Read more about the device.
Optional: The CyberPower indoor UPS is rated for indoor installations (up to 50° C). Units are configured with North American 3-Prong Type B power plug. Units are 12V 7.2AH 36W. Read more about the device.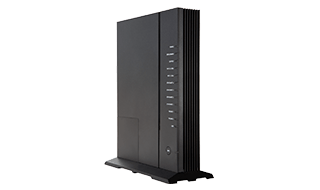 Fiber Extensions FAQ
When the gateway (router) is installed inside your home it will be placed within 6 feet of the ONT and near an electrical outlet. This is a default placement for each residence. In some cases you may prefer the gateway to be located in another area of your home. This can be accomplished by the extension of wiring whether from the inside of the home or outside.
If this applies to you there are a few options. The gateway can be moved to another room in the house, by means of a fiber extension. Below is some explanation on what a Fiber Extension is and how to determine if you need one, as well as, links to local vendors that can assist if you determine if an extension is right for you.
Fiber Extensions for Sea Ranch Customers
What is a fiber extension?
The standard length of Sea Ranch Connect fiber is about six feet from where it enters your home and will be placed near a power outlet.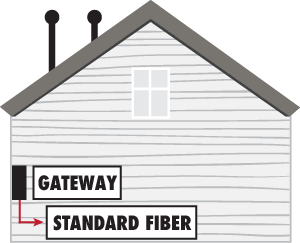 If you need to locate your gateway in your home beyond six feet you will require a longer fiber cable known as a fiber extension.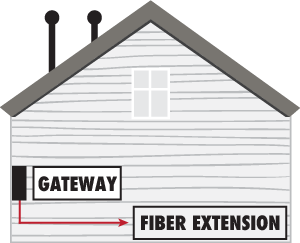 How do you know if you need a fiber extension?
Your Sea Ranch Connect technician will help you determine if a fiber extension is right for you and your home. They can provide you with a free extension survey and estimate.
You can discuss your individual networking needs with your Sea Ranch Connect technician at the time of your gateway installation appointment.
Common Reasons to Extend
Wi-Fi Signal Strength: Better distribution of Wi-Fi signal to enabled devices throughout your home.
Main Hub Location: Gateway connection proximity to your main office hub and centralized devices.
Aesthetics: Placing device in an unobtrusive location to maintain the clean look of your home.
Please Note: Gateways must be placed near an electrical outlet.
So... who can extend your fiber?
Go local!
You can use one of many qualified, local Sea Ranch low-voltage contractors.
Perhaps you would like to establish or already have a relationship with a local contractor.
Once your gateway is installed just make an appointment with your local Sea Ranch low-voltage contractor.
or a Sea Ranch Connect technician will be happy to go over this in your pre-construction appointment.
Factors to Consider
Cost
Fiber extension price calculated at $6 per foot (Sea Ranch Connect price, other contractors may vary).
Need
Review your needs with a Sea Ranch Connect technician. Extensions are atypical for most home networks.
Options
Free to use your own local electrical contractor to extend your fiber. Sea Ranch Connect has several local, qualified technicians.
Sea Ranch Connect Subscriber Checklist
Talk to your Sea Ranch Connect technician about your fiber networking needs.
Make sure a fiber extension is right for you.
Remember: You must authorize the installer before the fiber extension can be completed.
See you on the network!
Support for In-Home Installations
The Sea Ranch Connect subscription contract includes in-home setup of the gateway and verification of its proper operation. If additional cabling is required or equipment needs to be purchased and configured, professional services may be needed at additional cost.
Need Assistance?
Sea Ranch Connect Customer Support is available 24 hours a day, 7 days a week.
Call 1-866-270-1613 or email customer service and we'll be happy to assist you.