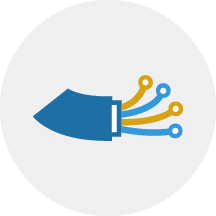 Plans Starting at $70 a month!
Sea Ranch Connect 100 Mbps plan offers 100 Mbps Internet speeds for both upload and download Internet usage. This option is the base plan for subscribers on The Sea Ranch Connect network to seamlessly stream, play, work and learn.
Sea Ranch Connect 100 Mbps speed plan offers 100 Mbps internet speeds for both upload and download internet usage. This option is the base plan for subscribers on the Sea Ranch Connect network.
Sea Ranch Connect 1 Gig plan offers the fastest connection available with over 900 Mbps upload and download speeds (average speeds are around 920 Mbps). This is the fastest internet connection available on the Sea Ranch Connect network. Learn More About the 1 Gig Connection
New to Sea Ranch Connect?
Getting set-up on Sea Ranch Connect Internet is fast and easy! Check out all the details on the service and sign-up today for a no cost on-site estimate to get installed and activated on the fastest internet on the coast!

Need Assistance?
Sea Ranch Connect Customer Support is available 24 hours a day, 7 days a week.
Call 1-866-270-1613 or email customer service and we'll be happy to assist you.
---
What makes Sea Ranch Connect Internet different?
Unique Features
1 Gbps connection to the Internet with speeds up to 1 Gbps for both uploads to the Internet and downloads from the Internet.
No limit on the amount of data you can transmit each month.
Fiber gateway with capability to provide LAN connections and optional WiFi.
Option to have a static IP address.
Assistance with email setup through an email account provider.
Reliability
Residential fiber "modems," known as gateways, are far more reliable than DSL or cable equipment.
FTTH systems use new infrastructure instead of cannibalizing older wiring for Internet, like DSL or cable.
Extreme weather changes in the seasons like extreme temperatures do not affect the fiber. Fiber does not corrode over time like existing communication systems.
Community
Provides a high performance, high reliability communications network critically needed by all community residents.
Provides additional revenue to The Sea Ranch Association once construction loans are paid off.
Real estate values will benefit from high speed and reliable Internet access.
FTTH systems are state-of-the-art and scale to higher speeds in the future.