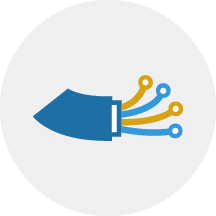 Internet Service
Sea Ranch Connect provides two services: Internet and Telephone. You will need to subscribe to the Internet Service in order to subscribe to the Telephone Service.
21st century internet brought to you by Sea Ranch Connect, a state-of-the-art communication system. Sea Ranch Connect is an optical fiber network installed to the curb of every house, lot and business on The Sea Ranch. This service provides a reliable communications network critically needed by all The Sea Ranch residents. This project was developed and is owned by The Sea Ranch Association.
Step 1
Sign-Up for

Sea Ranch Connect
---
Pre-Signup Form
On-Site Pre-Construction Appointment with a Sea Ranch Connect Technician
Provides consent for Sea Ranch Connect and its contractors to access your property for necessary installation work.
Step 2
Order Equipment and Set Installation Appointment
---
Order In-Home Gateway Equipment
Order Telephone Service and Select Telephone Settings
Set Billing Information
Receive Installation Appointment from Customer Service Representative
Need Assistance?
Sea Ranch Connect Customer Support is available 24 hours a day, 7 days a week.
Call 1-866-270-1613 or email customer service and we'll be happy to assist you.
---
What makes Sea Ranch Connect Internet different?
Unique Features
1 Gbps connection to the Internet with speeds up to 1 Gbps for both uploads to the Internet and downloads from the Internet.
No limit on the amount of data you can transmit each month.
Fiber gateway with capability to provide LAN connections and optional WiFi.
Option to have a static IP address.
Assistance with email setup through an email account provider.
Reliability
Residential fiber "modems," known as gateways, are far more reliable than DSL or cable equipment.
FTTH systems use new infrastructure instead of cannibalizing older wiring for Internet, like DSL or cable.
Extreme weather changes in the seasons like extreme temperatures do not affect the fiber. Fiber does not corrode over time like existing communication systems.
Community
Provides a high performance, high reliability communications network critically needed by all community residents.
Provides additional revenue to The Sea Ranch Association once construction loans are paid off.
Real estate values will benefit from high speed and reliable Internet access.
FTTH systems are state-of-the-art and scale to higher speeds in the future.